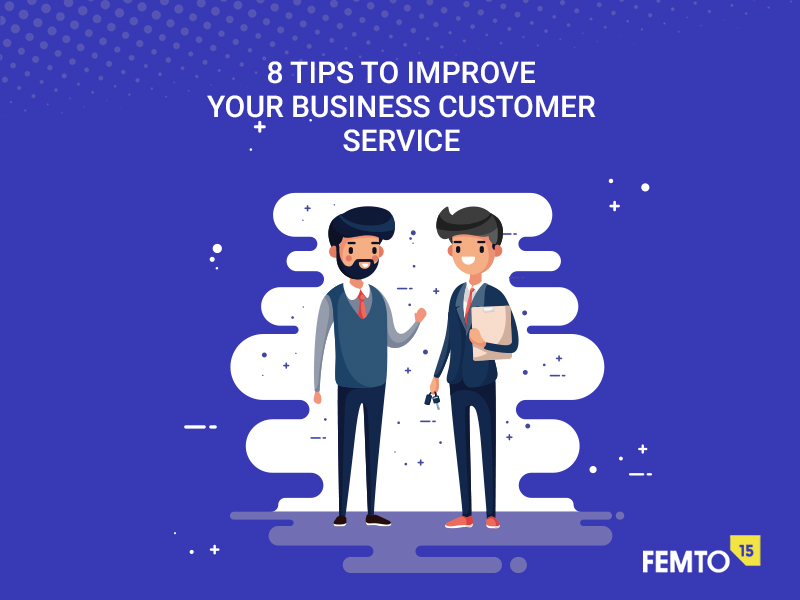 8 Tips to Improve Your Customer Service
By Femto15 Team - May 13, 2019
Once you have a business, you have customer support. Customers need to contact you whenever they have an issue with your product/service. Your job then is to "HELP" them fix the problem or fulfill the need.
How would you help is what affects the relationship between you and your customer, that relationship you struggled to build from the start. A customer support experience can either nurture it or dry it up.

If it's managed correctly, customer support can upgrade your marketing strategy by generating more and more loyal customers. It's one of the easiest and forward ways to nurture your customers and convert them into loyal customers. They can then be your free marketing tool by recommending your trusted business to others.
Tips for a better customer support experience
1. Build a customer service knowledge base
Whichever your service or product, there are always common questions and issues that face your customers. Some of them can easily be "How to use" a feature in your product, others may be as simple as changing the password.

The best way to answer these questions is to let your customers help themselves by creating a knowledge base. Your knowledge base is official documentation that guides customers while dealing with your product/service.

As we are in the era of customer self-service, you should prepare your self-help resources. It's just like the manual, you explain your business in an easy to understand way and answer the FAQs using images, screenshots, or videos.

For your employees, that relieves them from being continuously asked the same questions, saves both time and resources, and makes your service consistent by referring to the same content related to the issue whenever asked about it.

For your customers, it represents 24-hour customer support, as they can find the solution for their problems whenever needed, without the fuss of connecting customer support representatives. This way, customers learn better about your product/service and feel more independent.

Google Help Center is an example of that:

2. Create a community for self service
"Customers seek ways to engage with their peers and share experiences. They are looking for ways to connect with both the brand and with other customers in order to share experiences, ask questions and get help." | ORACLE SERVICE CLOUD
An online customer community is a great way to let customers help each other when they face similar issues. The community makes your customers feel they are part of your business family. It's also a good place to ask for feedback.

You can create online forums or a social media group. Whichever the platform, it's a place that connects customers along with your customer support experts.
Oracle Community is a great example of that:

3. Complaining customers are your friends
If someone told you there is a snake behind you, would you think of him/her as a friend or an enemy?
Of course, you would be grateful for the warning. That someone is the complaining customer, and the snake is the problem they address. You can't fix what you don't know, right?
The majority would draw away silently without telling you the problem. Only those few customers alarmed you before taking action. Those customers help you figure out your issues so you can fix them, deliver better service, and build a long-term relationship with them as your advisors.
Think of complaints like feedbacks that push you forward and guide you through future maintenance. Manage them correctly to convert those complaining customer into happy, loyal ones.
4. Provide a multichannel customer support
Serve your customers through different channels and give them multiple options to choose from. Whether it's through phone, email, social media, messaging apps, mobile messaging, chatbot, live chat, or any communication channel, make sure you respond.
5. Use disney's HEARD technique
Disney's approach for customer service recovery consists of five easy steps:
Listening works like magic when it comes to any human problem. Active listening is an essential skill for any customer support rep. Don't interrupt the customer until they spit it out.
"Most people do not listen with the intent to understand; they listen with the intent to reply."
Don't be like that! You will reply later. For the moment, just show them you understand their problem, and you would feel the same if you faced it.
Like Patrick McKenzie said: "Apologizing literally works magic on people, particularly sincere apologizing (not "I'm sorry you're too stupid to use our software but that is the way it is"). It's also free. I would generally counsel apologizing for just about any unfavorable experience your customer has."
Admitting you have a problem is half the solution, and a sincere apology is your way to absorbing customer's anger.
Fixing the problem is, obviously, your next step. Resolve the issue ASAP. If it can't be fixed right away, make sure they know you are working on it, and you are eager to do it fast and efficient.
Track the issue, find its source, and ask for customers' feedback about the solution. Finally, make sure to prevent it in the future.
6. Be consistent
Being consistent means your team members have the same tone, resources, terms, style, and persona. In short, make sure each customer service agent represents the personality of your brand.
Make sure they are on the same level of both technical and soft skills by providing continuous training for them and provide well-written documentation so they can return to it whenever needed.

Encourage communication between them to make them share their experience and similar situations. Your representatives are your front line; they must be armed well, and they must stick together as one human being.
7. Don't win against your customers
Winning an argument means losing a customer. Even if the customer needs to be educated or s/he is simply mistaken/wrong. You don't work to win against them but to win them over. Remember! You are there to "help" and "educate".
Customers are not always right, as explained in "Customers Have Rights" article: "They have the right to do and be anything they wish to be, and they have the right to receive from us professional and high-quality customer service."
What Alan says is partially correct, customers have the right to be served with respect, but that doesn't mean you never say "NO". Saying no at the right time in the proper way is a skill that should be taught to your team.

8. Value your customer's time!
The worst thing to do is leaving your customer without a proper reply within a specific timeframe. A fast and helpful response is the cornerstone in your customer support strategy. Thus, you have to measure and track your average first response time for better customer satisfaction.
First Response Time is the time taken to respond to the customer's initial request; whether it's a phone call, an email, an SM msg, etc., Make sure you have a deadline to return your customers calls; a deadline your customers know; obviously, the shorter it takes to reply, the better.
The first reply may be automated (like an automated mail), using customer service tools can help you deliver a usefully automated email. You can give the customer a list of common problems to select from or choose "other". If a common problem is selected, an email including the documentation of that problem is sent.
Final words
Improving your customer service means considering three aspects:
Your team
A well-educated high-skilled team is the best representative of your brand. Build a happy team to have happy customers.
2. Your tools
Software tools may help you automate, analyze, and track your customer service strategy. Also, choose your customer service platforms wisely.

3. Your customer
We are in the era of self-service. Let your customers help themselves by providing documentation that explains your business.

ABOUT AUTHOR
Femto15 Team ABOUT AUTHOR
Femto15 Team