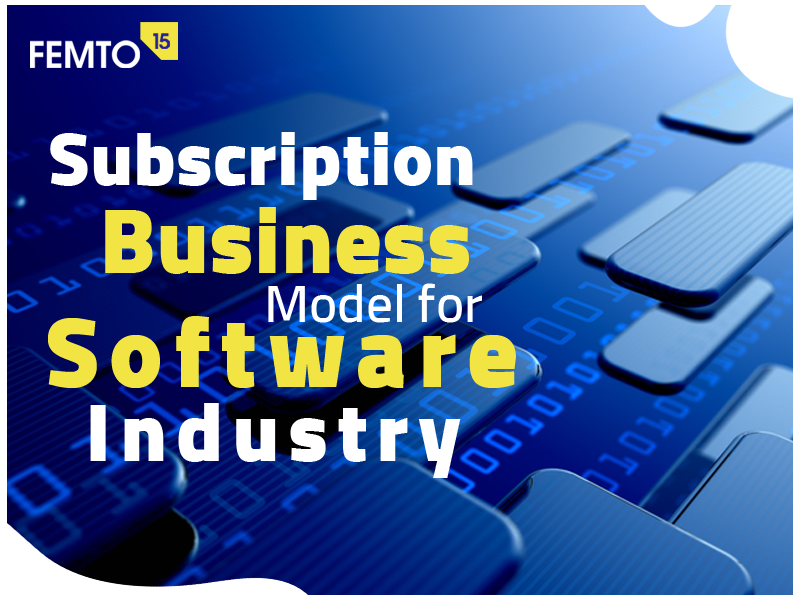 Subscription Model for Software Industry
By Eman Azzoz - June 21, 2020
For the software industry, the subscription model can be the best business model nowadays. Due to some reasons that we mention in this article, we argue that the subscription model works best for the SW industry whenever there is an ongoing demand.
Why the subscription model works best for the SW industry?
Updating
Due to the revolution in the SW world, there are always new versions with updates, new features, and security patches.
By allowing the customers to access the software through the cloud in the subscription model, you control everything. Thus, the new versions aren't a big deal to users anymore; they don't have to download and run software to have the latest version, you are behind the scene, setting things for them.
Cost
It costs much lower!
The software is expensive; we all know that. Thus, help yourself and the customer by providing valuable service with the number of cash users can afford.
Have you ever thought of buying an Adobe product?! Lots of people used Adobe cracked products because they can't afford to buy it.
But now, Adobe found out that the subscription model will do best for it. People can afford to pay a small amount of money regularly; it's much cheaper and practical.
Scalable
When we talked about MVP, we've mentioned that you don't have to start with all the features you dream of; instead, you should get going once you have something that runes!
The traditional model will put you at high risk, as the customers won't be satisfied with this level, they need more, they compare you with competitors.
That's why the subscription model is best for software services as it allows them to scale freely, provide new features to customers through the cloud, and update whatever they want to update.
Customized to customer's demand
It's about what you need; what you need today you may not need tomorrow. The subscription model is customized to the user's needs. If they need the features in the basic plan only, they go for it. If they need more, they pay more. They don't need it tomorrow, they won't pay, they need it, they pay.
One of the main conditions of the subscription model is the ongoing demand, which means the need doesn't end. If you are providing valuable functions, your software will be needed again and again.
This may seem risky for your business, but if you track your users' behavior, it won't be so.
Flexibility
Users prefer to receive ready to eat meals without the need to cook the software, run it, and all these error messages (we've all gone through this). Now, all you need to use Grammarly (e.g.) is to write down the text you want, and that's it!
Think of it, you enhance the software, but users don't have to pay more to get the new version, nor do they need to download any .exe files.
Maintenance and support
Again, maintenance can give users hard times when it comes to software. But with the subscription model, you do it too. Whenever there is a leak, you handle the situation, and it's fixed.
The world is getting online. Users prefer to get support and customer service through the web; if you can do it for them without the need to spend their time on it, they will be happy.
Marketing
You can give users a FREE TRIAL, which is one of the best marketing methods. And you do so without spending resources; you only provide them the access to the SW.
User Experience
Software users know that the industry changes and develops each year, and they know they can have more tomorrow. Thus, what they care about more now is usability; it's more about the experience they have.
There are multiple choices in the SW world; people take time to make the right decision; they don't want to choose the wrong choice while there is a better solution.
That's why the competition is higher. Users benefit best from this competition and model that allows them to try more than one software and choose the best out of them.
Final words
All of us now use SaaS in a way or another. Whether it's Gmail or Zoom, you need it in this cloud-based world. As a user, you know the benefits of this business model, from a business-wise, we are here to tell you that it's a model here to stay for the next couple of years.
ABOUT AUTHOR
Eman Azzoz ABOUT AUTHOR
Eman Azzoz