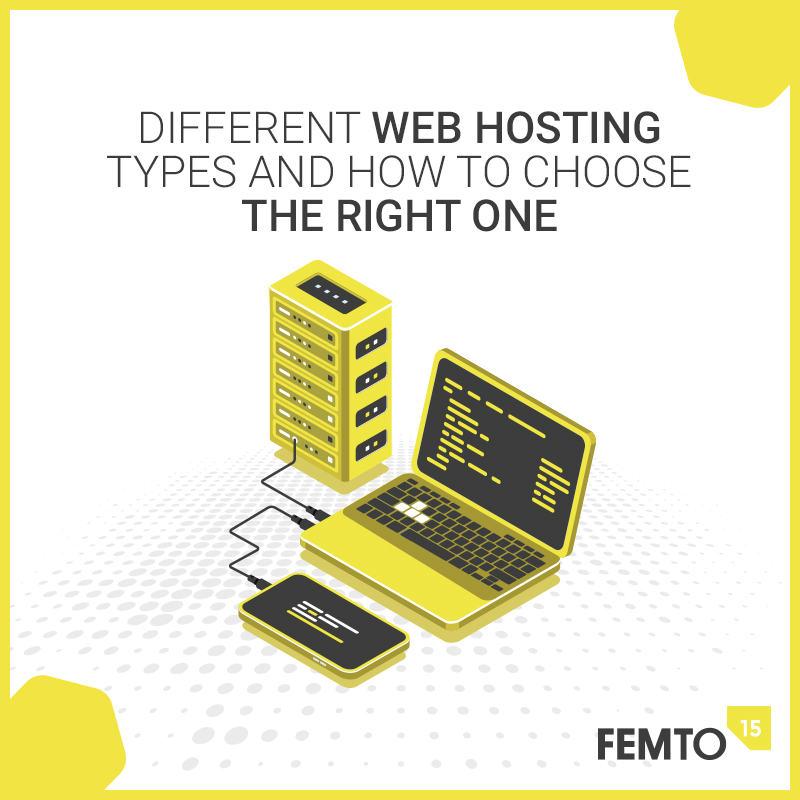 Different Web Hosting Types and How to Choose the Right One
By Femto15 Team - August 29, 2019
Every business needs a location, whether it's a mall or a moving truck. Your website is a business, so it needs a location too. The Host is the place where your website's files live. People access these files by writing your address in the address bar; they can then visit your website in its place (Host).
Your customers may not visit you again if they felt bad about your location; if it's very crowded for example or unsecured, they may even not visit you because they have heard your neighbors do harm people.
That's why you should choose your business location carefully so your visitors will feel comfortable and happy when they arrive.
In this article, we show you different kinds of hosting so you would choose the best one for your website according to your needs and your budget.
CONTENTS
Shared hosting
When you share an apartment with others, you all share the resources of it and you all pay for it. When one of you has a visitor, the visitor enters the apartment regardless of which room they will sit in. If the apartment set on fire, you all won't be able to breathe, regardless of who caused the fire.
It's the same for Shared Hosting, you share a server with other websites. Users of other websites access the same server that your users access.
When people share the same apartment, they may pay someone to do the cleaning for them.
That's what you may do too, the host manages the server for you. All technical issues are handled by the host.
Pros
- Low Cost.
- You are not responsible for server administrating.
Cons
- You may be a prey of bad neighbor phenomenon:
If a neighbor website has lots of traffic, it affects the performance of your website (slow loading time).
If a neighbor website is listed on any kind of bad lists, your website is listed there too.
- Lack of security, which depends on the host itself.
Cost
$5 - $10 / month.
Best for
Beginners with a very tight budget.
VPS hosting (Virtual Private Server)
When you rent an apartment in a building; you don't own the apartment, you still share the building with others, you still share some resources of the building with others, but, you have more private space. You are more secure and free, and you have widened your control.
It's the same for VPS hosting, you share a physical server with others, but this server is split into small virtual servers, and you rent one of these virtual servers. The users of other websites can't access this virtual space you own, and they can not affect it if they gain more traffic.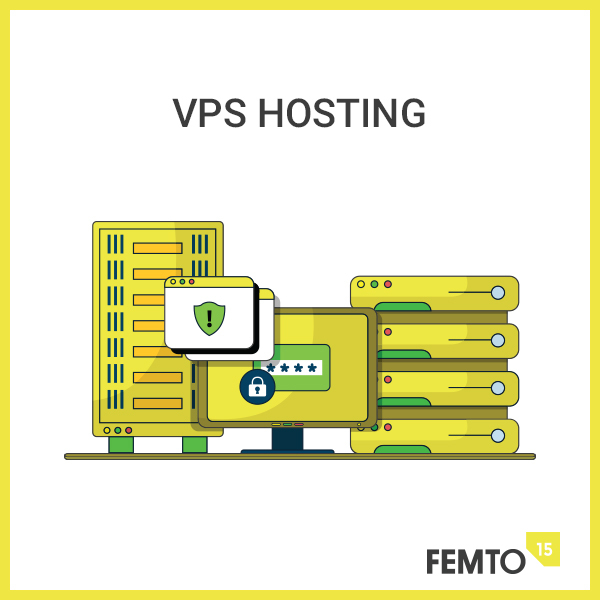 For VPS Hosting, you can choose between 3 options:
Unmanaged
You take the full responsibility of managing your VPS.
Semi-managed hosting
You share the management process with the host.
Fully-managed hosting
The host or an external server administrator is responsible for the management process.
Pros
- You are not affected by your neighbors.
- More control.
- More secure (if managed properly).
- Better performance and can serve more visitors.
Cons
- Costs a bit more.
- With more control, you may face some technical issues that you can't handle alone.
Cost
$10 - $200 / month.
Best for
Those who have a growing business with a good future, who need more traffic, security, and control over their website, and, of course, have a bit more money.
Dedicated hosting
When you rent a building from someone, you have control over everything. You do everything, from the keys to maintaining it and handling all the issues that might face you while living there.
It's the same for dedicated hosting, you rent an entire physical server for your website. Nobody shares any resources with you. The server's CPU, RAM, and disk space are all yours.
You do all the management or hire someone to do it, you can customize the server as it suits your needs.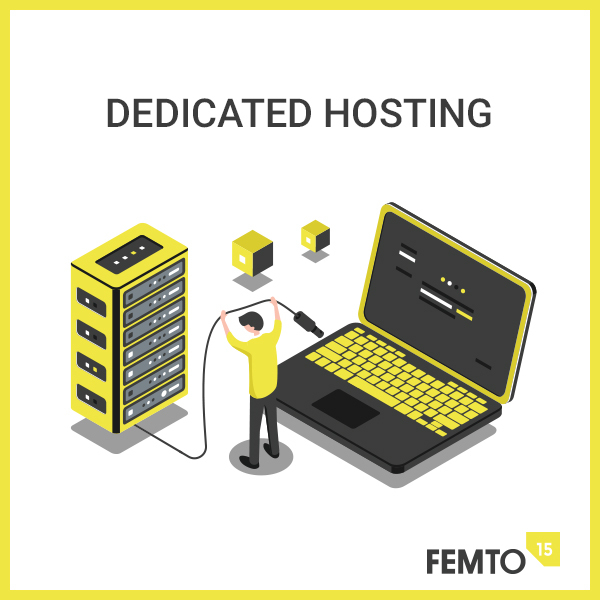 Pros
- No sharing issues. No shared resources. No one can affect you.
- You won't be listed with any websites as a spammer or whatever.
- Much better performance (super speed).
- Stability (if managed properly).
- You have full control.
- Much more secure (if managed properly).
- You can configure it as you wish (customization).
Cons
- Highest cost (though, it can be cheaper than some cloud/VPS providers).
- Lots of responsibilities including setting up the server and daily monitoring.
- You must handle technical issues yourself (or hire someone).
Cost
$50 - $350 / month.
Best for
Those who have a big business, huge traffic, e-commerce issues or social websites. In short, people who have lots of visitors and/or lots of financial transactions.
Cloud hosting
The concept of it is the same as VPS hosting, but you have more than one small virtual server in different physical servers. You rent different apartments in different buildings.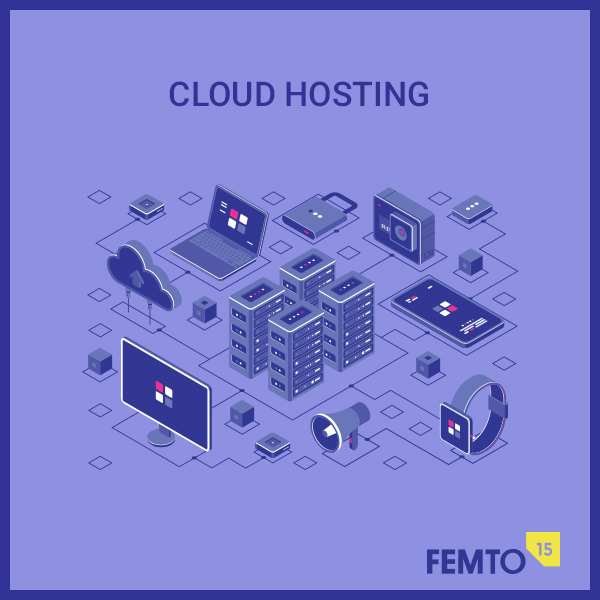 Your website files are located on different servers. These servers together share computing and storage operations.
The management options are the same as VPS Hosting.
It is famous for its pay as you go concept, which saves your bucket if you don't need a server 24/7 (highly unlikely). Yet, you have to manage your cloud server yourself or hire someone to manage it for you.
Pros
Scalability.
Cost Flexibility.
Stability (No Crashes).
Ease management.
Disaster recovery.
Cons
Costs a bit more.
You may face some technical issues that you can't handle alone if you don't have a system admin.
Cost
$0.005 - $0.27 / hr
Best for
It works as a substitute for VPS and Dedicated hosting when your budget is limited.
Colocation
Co-location is like a dedicated server, but instead renting the server's hardware you buy it and ship it to any data center, and they just put it online for you. You only pay a monthly fee for electricity and internet connection/bandwidth. The cost ranges from $50 ~ $100+ per server per month.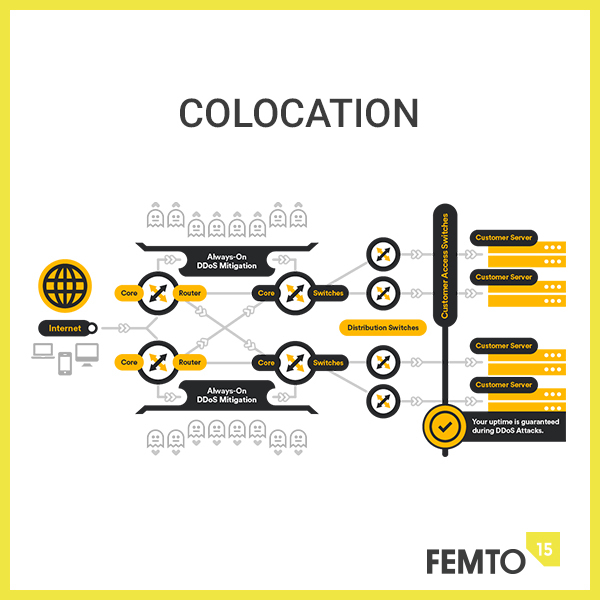 Final words
Where you locate your website may seem like a big responsibility, but once you understand how to do so, you can make the decision easily.
ABOUT AUTHOR
Femto15 Team ABOUT AUTHOR
Femto15 Team