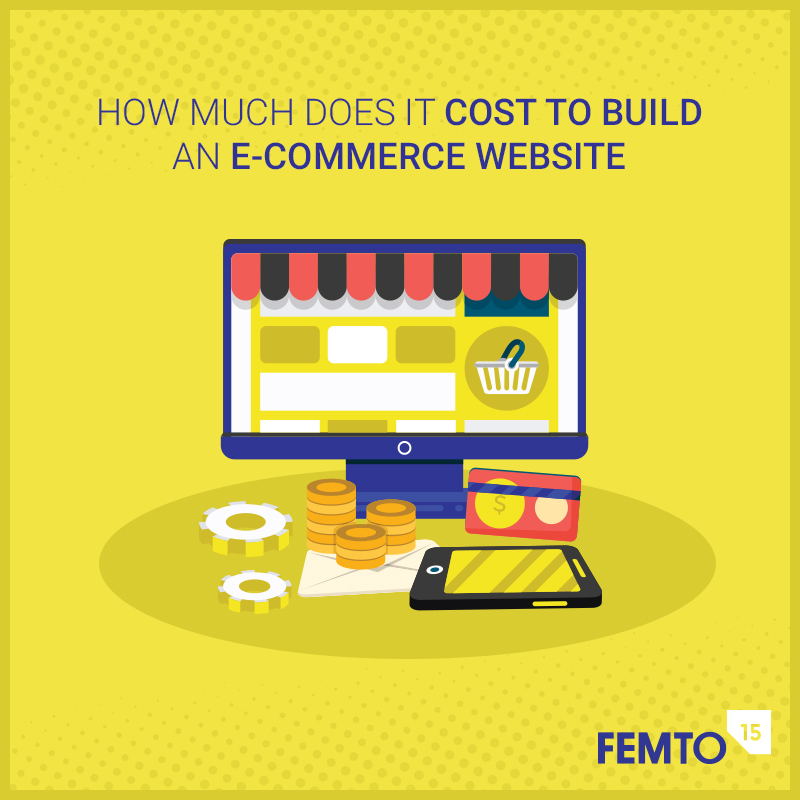 How much does it cost to build an E-Commerce Website in 2020?
By Femto15 Team - September 10, 2019
That's the final stage of our how much does it cost series. After we've shed the light on personal website cost and business website cost, here we'll discuss the eCommerce website cost.
, here we'll discuss the eCommerce website cost.
An eCommerce website is just a business website where you can sell things online, which means your customers can do online shopping. You can sell products or services. Your online business can be B2B, B2C, C2B, C2C, B2A, or C2A.
What distinguishes an eCommerce website from a business website is the financial transaction that happens online. This transaction needs some features to support it so it would be carried out safely and faithfully. These features are related to online shopping and payment. In this article, we cover most of these needed features and its cost.
So, what do you need for your E-Commerce website?
Basic needs of each website
There is a couple of things you must pay for to have a website, like hosting, domain name, design, development and maintenance.
A few things to consider:
You should think differently about those things, as you're planning to launch an eCommerce website, not a personal blog.
You need to think of customization, security, control and other needs more.
You should keep in mind the needs of your targeted customers.
You should know that you will invest more money for a well-done work, so don't hesitate to hire whomever you need (especially for the design and development stage).
Features for business websites
After that, you need to add some features so your website can be called a business one. These features work on reaching your customers and convincing them you are the best choice for them.
Business website features like Responsive design, database integration, social interaction tools, CMS, SEO, and others are essential for a business website, and we will assume that you've already got these features.
Features for eCommerce web store
If you decide to open a store, you can open it alone, or you can go for a partnership. Each option has its pros and cons. When all the business is yours, you control everything and put everything where you want. When you share your store with someone, you share your partner's vision too, and you have less control.
In short, when you rent a yacht from someone, you can use it, but you can't paint it or replace the furniture.
It's the same for online stores:
You can have your online store where no partners are there.
You can rent eCommerce services from a provider which will take care of most of the tech issues for a percentage of your profit.
Your e-commerce platform is a crucial decision you should take and will affect your website's costs, performance, and limitation.
What is your E-Commerce Platform?
Hosted/Cloud eCommerce platforms (SaaS)
Your store runs on someone else's server. You won't worry about your hosting fees.
Monthly fees vary depending on the host and the size of your store. The costs will be:
Theme design and development costs (if you don't want to look the same as everyone).  
Recurring fees for the hosting itself (monthly or annually):
The more you pay, the more features you have. You will have to upgrade your system while your business expands. 
Fees for each transaction. 
Fees for certain features that are not included in the system, or included but paid.
Small or Medium size business.
Less time to start.
You needn't worry about a thing; the hosted provider takes care of everything for you. Such as security, upgrades, maintenance, and all the integrations you need.
Less control (you don't own your data) and you can't add new features that the provider doesn't support.
Not customized.
Built-in integrated systems, such as payment methods.
Famous ones are:
Shopify
BigCommerce
Volusion
Design/Development cost: $25 - $250+ per hour
Self-Hosted eCommerce platforms (On-premise)
You set up your own server.
Open-source (free to download and run) but it comes along with hidden costs. The costs will be:
Theme design and development costs (if you don't want to look the same as everyone).
Server cost.
Security, maintenance, and upgrades costs.
Adding features more features to the platform.
A Large business.
More time to start.
You take care of everything. No technical support provided.
You must have an IT team to help.
You control everything (you own your data) and you can add any feature.
Unlimited customization.
You need to take care of each integrated system that's not supported by the eCommerce platform you've chosen.
Famous ones are:
WooCommerce
Magento
Opencart
Design/Development cost: $25 - $250+ per hour
After you take the crucial decision (SaaS or On-premise), your next step will be deciding the platform itself. The factors you should think of are:
The features provided by the platform.
Price VS Budget VS Needs.
Hidden costs and future costs.
In the next section, we discuss the main features of each eCommerce website. When you compare between your options, check whether the provider offers these features or not, and check the cost of it. We will also put the development hours for self-hosted guys.
To understand the needs of any eCommerce website, you need to know the online shopping process:
Customers visit your website; they register first.
Normally, they would search for something using the search bar on your home page.
After that, they add something to the shopping cart.
Then, they fill the checkout form.
Finally, they choose a payment method, enter their info, and wait for the product to be shipped.
You got it; the bolded words are your needs. They are not your only needs, but the basics of each eCommerce. Other features may be needed due to your business's condition/needs.
Basic needs for any eCommerce website
Customer registration
Although some eCommerce websites allow anonymous shopping, we recommend you don't. Making each customer have an account means you have his/her history. You can then do analysis, customize the products you show, offer some discounts due to frequent shopping, do email marketing and much more.
In short, it's a way of engaging your customers.
| | |
| --- | --- |
| Development hours | From 1 to 3 working days according to your needs. |
Search with filtration options
The first step users do in online shopping is searching for what they need. That's why every eCommerce website Must have a search bar with different filters. The closer the search result to customer needs, the better it is.
| | |
| --- | --- |
| Development hours | From 2 to 4 working days according to your needs. |
Shopping carts
Your eCommerce platform should have this option ready for you. You may need to customize it though and the cost of customization depends on its complexity.
Checkout process
A simple, clear, and fast checkout process is an essential step, it has to be perfect otherwise you'll lose sales. Your customer chooses the payment method, shipping method, and shipping/billing address. You may offer a discount or a coupon if your platform allows that.
Most of the eCommerce platforms have a built-in checkout form.
| | |
| --- | --- |
| Development hours | From 3 to 10 working days according to your needs. |
Payment Method
That is the Heart of your Online Store; this is where money travels from side to side. If an issue happens here, it's over. So you better concentrate and give it some good research.
Most eCommerce providers integrate payment method with their system, but these are things to consider:
Not all stores support your country's currency.
You will pay a fee for each transaction.
Some platforms have additional fees when using payment providers other than theirs.
Sometimes the standard/basic fees are somehow low, but the upgraded/ advanced fees are so high. So make sure to check the enterprise options.
If you are a self-hosted guy, you should understand the payment process simplified below. You should know the meaning of each icon of them.
For now, we will talk about three elements that you will pay for: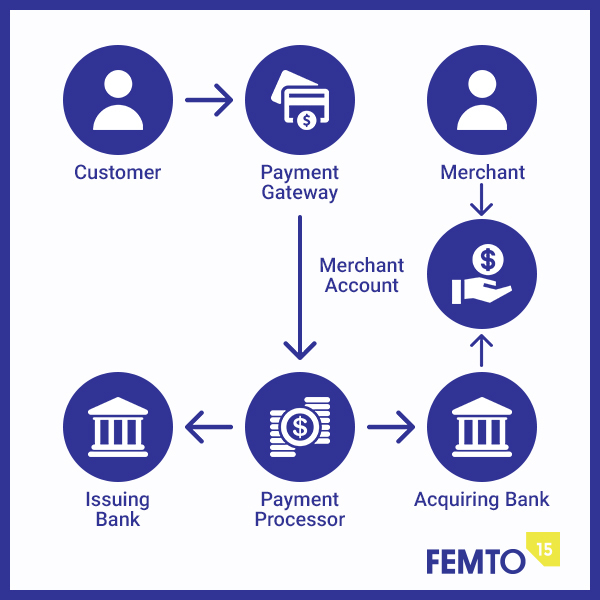 Payment Gateway
It's the guarded road customer's info crosses before reaching Payment Processor. It's used for security and authentication issues. Payment processor company may or may not offer gateway service. Below there are some gateway costs, but not all gateways make you pay all these costs; it differs.
| | |
| --- | --- |
| Setup Fees | Only once. |
| Monthly Fees | Recurring fee. |
| Transaction Fees | For each transaction. |
Most popular gateways are, Authorize.Net, PayPal, SecurePay, Adyen, Bambora, Stripe, FirstData, Wepay, etc.
Merchant Account Bank Fees
An internet merchant account accepts credit/debit cards payment from customers. It's an account in the acquiring bank that deals with the payment processor. The money then transfers to your business account.

Fees included: setup fee, annual fees, monthly fees, transaction fees, chargeback fees, and termination fee. But it differs from one gateway and the other.
Shipping Integration
Most eCommerce platforms have shipping options integrated with it. The thing you should consider here is shipping rates. If you are using hosted platforms, some shipping methods, like USPS, Canada Post, FedEx, or DHL, may need you to upgrade your account.
Things you may or may not need
Complex pricing
Why would you need it?
If you have product variations and the price varies according to this variation.
If you want to put offers according to the user or time.
Anything that will let the same product have multiple prices.
Landing pages
Landing pages are a Call to Action (CTA) pages. You use them for paid traffic like Google Adwords. They collect the data you need for your marketing process, like email addresses.
Automatic backup
You have to get a backup of your website's data so you can restore it whenever anything unwanted happens. The fees are determined by the number of backups daily and backup storage. The cost will depend on the size of your data: from $3 - $9 /month for 1GB. 
Website backups examples are Dropmysite, GoDaddy, HostPapa, iPage, etc.
Final words
You have two routes, each of them has its costs. Nothing is the best and nothing is free, but there are better options than others according to what you have and what you need.
Other things to consider are multilingual, reviews, online chat, etc. but they're beyond this article's capacity. Please let us know in the comments if you'd like us to write about them.
ABOUT AUTHOR
Femto15 Team ABOUT AUTHOR
Femto15 Team