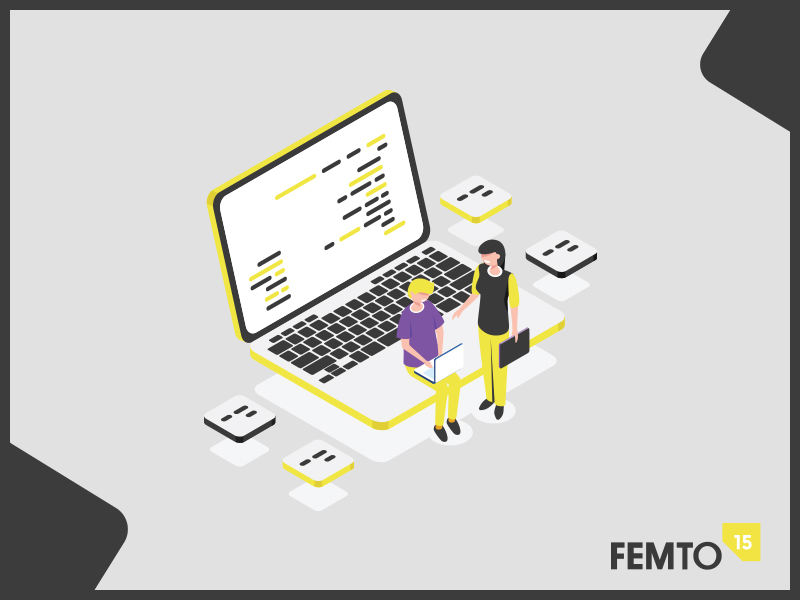 How Much Does It Cost to Build a Personal Website in 2019
By Femto15 Team - April 24, 2019
The internet is the #1 marketing tool for everyone. No matter what content, product or service you offer, you can reach your audience as long as they have an internet connection. So, whether you are building an online portfolio, personal branding website, blogging website, or business website you need to know how much it will cost you to have a professional look online.

What are the costs of a website?
Building a website is just like opening a store. The thoughts you would think of when opening a store are almost the same when establishing your website. To open a store, you may think of its type, location, design, building materials, marketing, decorating, etc. It's the same for your website.
Let's divide all these thoughts into 3 basic stages:

Launching your store: starting cost.
Keeping it alive and making money: ongoing cost.
Expanding your store so it would make more money: expansion cost.
In each stage, you may hire web developers, web designers, or others who would do one or more tasks for you, because you don't know everything, and you don't have enough time to do everything. If you'd like to skip the details, you can check the website cost summary, but we urge you to read the post to get the full picture.
What are the different types of websites?
Even none-experts can tell when they visit different kinds of websites, what is the purpose of this website. Generally, people in the web field classifies websites into 4 main categories (according to its complexity and features):
Personal website (simple website).
Business website.
E-commerce website.
Web applications or web-based SaaS.
These are four levels of complexity and different types of features. The first 2 categories are the initial step for the next one. That means you can't have business website features without having the basic needs of a simple website.
In this article, we cover the basic needs of a personal website. We also mention the average cost for those needs; the costs that you can't turn a blind eye to, or postpone them. So, we only cover establishing and ongoing stages' cost.
Website starting cost
This stage is only about making your website go live; nothing more. Here is the list of things that we'll cover:

Website ongoing cost
At this stage, you'll need to monitor your website so that it keeps doing well, doesn't crash and keeps attracting visitors. Here is the list of things that we'll cover in that stage:
Hosting cost
A store must have a location that may be in a mall or a street. Your website is similar, it needs "A Host" where it will live. The host is the server (a PC with high-end specs) where your website's files are stored and accessed by users. Hosting is an ongoing cost, but you can't start without it, so we'll discuss it here.
Note: hosted website builders can offer free hosting for limited space and options. You will need to upgrade to a premium plan that will cost monthly from $4 - $30 if you want to expand.

Shared Hosting
You share a server with other websites. Visitors of different websites are accessing the same server that your visitors access. The hosting provider manages the server for you and handles all the technical issues.
Cost: $5 - $10 / month.
Best for: Beginners with a tight budget and low traffic.
---
VPS Hosting (Virtual Private Server)
You share a physical server with others, but this server is divided into small virtual servers, you rent one of these virtual servers. The users of the other websites can't affect you.
You have 3 options for server management: Unmanaged, Semi-managed, and Fully-managed hosting.
Cost: $15 - $200 / month. Depending on the specs and management.
---
Cloud Hosting
Your website files are located on different servers around the world. The solid idea of it is the same as VPS hosting, but you have more than one small virtual servers in different physical servers.
The management options are the same as VPS Hosting.
It's famous for its pay for what you use concept and billing is hourly. Finally, backups are usually much easier with cloud hosting.
Cost: $0.005 - $0.27 / hr
---
Dedicated Hosting
You rent an entire physical server for your website. Nobody shares any resources with you. The server's CPU, RAM, disk space, and connection are all yours.
Cost: $60 - $350+ / month. Depending on the specs and management.
Best for: Those who have a big business, massive traffic, e-commerce transactions, and social websites. In short, people who have lots of visitors or lots of financial transactions that they can't afford to miss.
Domain cost
Your domain is the address you give to everybody, saying: Hello, come and visit. For example, our domain name is femto15.com. It's your website's fingerprint on the World Wide Web. Generally, you need an address that people will remember easily, and that is related to what you do; that will help a lot with SEO.
Domain cost
The average cost will be between $1 to $20 annually. If you want to buy a specific domain name that is essential for your brand or is owned by others, your domain name cost may jump to thousands or even millions.
Domain registrar
Domain registrars are companies responsible for the domain registration process. As domain registrar's fees differ from one registrar to the other, domain name cost depends on your domain registrar, but usually, it's minimal.

Warning: don't buy a domain name from your hosting provider or fall for the free domain name trick, since 99% of the time they will keep your domain if you decide to leave them.
Things to consider: Hidden fees, transfer out charge, and expiration scams.
Website design cost
If your store is not attractive enough, you won't sell a thing. Why? Because humans judge by appearance (hard reality). So, you need an outstanding design to attract their eyes before offering your content, product, service or whatever.
So, should you design your website? we won't be discussing this here, we'll only mention the costs of the options you have.
The rule is that website cost is highly associated with website customization and uniqueness. The more customized and unique your website is, the more it will cost. You can think of it as a Ferrari and old Fiat both are Italian and will serve their purpose, but they don't look the same.
Type
Method
Cost
Free Templates.
DIY Web Builders.
CMS free templates (for, e.g. WordPress).
Do it yourself
$0 + Time
Customized Design
Do it yourself
$0 + time + lots of knowledge
Customized Design
Buy a template (less unique)
$35 - $200
Customized Design
Hire a web designer or an agency (be unique)
$1.5k - $10k+
People that you may need to hire in the web design process

UX/UI designer
Graphic designer
Front-end Developer
If you'd like more details about the cost and job of each of them, you should read the ultimate guide to web design cost article.
Website development cost
Website development is about implementing the back-end of your website. If the design is the body of your website, the backend is the sole. Like web design, the more complicated your website is, the more it will cost. The complexity of your website means the number of pages, website features, and website functionality.
More factors mean more coding, more time, more cost and, of course, more maintenance. You may pay from $0 up to millions of dollars (if you're building the new FB).
Website Development Options
Free website builders
Can give you a website at little or no cost with higher hidden costs in the long run. Though, you must know when you should use a website builder before deciding to use one.

WordPress
Can offer different free and customized templates according to your budget, but you should have some technical knowledge to manage, customize, and maintain it.

Hire a developer or web development agency

Professional Web Development: $50 – $250+ / hour.
Professional Offshore Web Development: $30 - $95+ / hour (depending on the location).
Freelancers: $20 – $65 / hour (depending on the level experience and location).
A student/fresh graduate: $10 – $25 /hour.
We don't recommend that you go for a lower rate because you'll end up with an amateur who'll use your website as his/her training object.

SSL Certificate Cost
If someone visited your store and got robbed there, s/he won't, likely, revisit it. It is the same for websites if a hacker has stolen your visitors' data; your website's trustworthiness will be down.
That's why you need an SSL Certificate. Secure Sockets Layer is a protocol that encrypts the data transferred between end users and the server. The certificate is essential for any website that needs data from users, to secure that data from hackers.

SSL Certificate average cost
The SSL cost is between $9 and $200+ depending on the number of domains, security level, and business validation.
Maintenance
Maintaining your website means keeping it in good condition. You don't want it to crash, do you? That's why you always need to monitor it. In the software world, issues come from nowhere. Add something, and your site crashes. Your website's framework updates, your site crashes. Do nothing, your website crashes (just kidding).
Overall, there are lots of changes that may occur on your website, and you have to follow it up.

Why do you need website maintenance?
If you are not using a DIY web builder, then you will need maintenance for one of the following reasons:
Backups for your data
Fix technical issues
Adopt with framework updates
Patch security issues
Add more features
Plugins and extensions issues
What will happen if you don't maintain your website?
You may lose your data
Your website may crash
Your website may get hacked
Some features may not work
User actions may lead to unwanted events

Website Maintenance cost:
Just like website development, website maintenance cost depends on your website complexity. If you don't have the good technical knowledge, you will need to pay someone (a part-timer, freelance or an agency) to do it for you.
The average cost is between $100 and $1600 per month.

SEO (Search Engine Optimization)
SEO is one of the marketing tools for your website; it helps you rank first at search engines' results and gives you traffic. On-Page SEO techniques are essential for you to reach your customers.
Your SEO options:
| | |
| --- | --- |
| Do it yourself | $0 + time + knowledge |
| WordPress plugins | There are free and paid plugins for $89+. |
| Hire an expert | $20 to $250 per hour |
Content writing
Content writing is associated with SEO. They both integrate so that your site gains traffic. Some say good content is the life of websites, why? Because it's the way to win your customer's trust, show that you're an expert in what you do and that your product or service is worth it.
The average fee of a content writer is $2 ~ $30+/hr depending on the location, topic, industry, and the level of experience.

---
Website cost summary
Starting cost
Hosting
Type
Cost
Shared
$5 - $10
per month
VPS
$15 - $200
per month
Dedicated
$60 - $350 per month
Cloud
$0.005 - $0.27 per hour
Domain
$1 ~ $20+ per year
Website design cost
| | |
| --- | --- |
| Type | Cost |
| Free | $0 + time |
| Template | $35 ~ $200 + time |
| Hire a web designer or agency | $1.5k - $10k+ |
Website development cost
| | |
| --- | --- |
| Type | Cost |
| Free | $0 + time |
| Buy a template | $35 - $200 + time |
| Hire a web developer or agency | $10 - $250+/ hr |
Website Ongoing Cost
Maintenance
$100 ~ $1600+
SEO
| | |
| --- | --- |
| Do it yourself | $0 + time + knowledge |
| WordPress plugins | There are free and paid plugins for $89+. |
| Hire an expert | $20 to $250 per hour |
Content writing
$2 ~ $30+/hr
Expansion Cost
If you want to expand your website and want to learn more about the extra features you may add to it, you should read how much does it cost to build a business website It's the next level.
ABOUT AUTHOR
Femto15 Team ABOUT AUTHOR
Femto15 Team