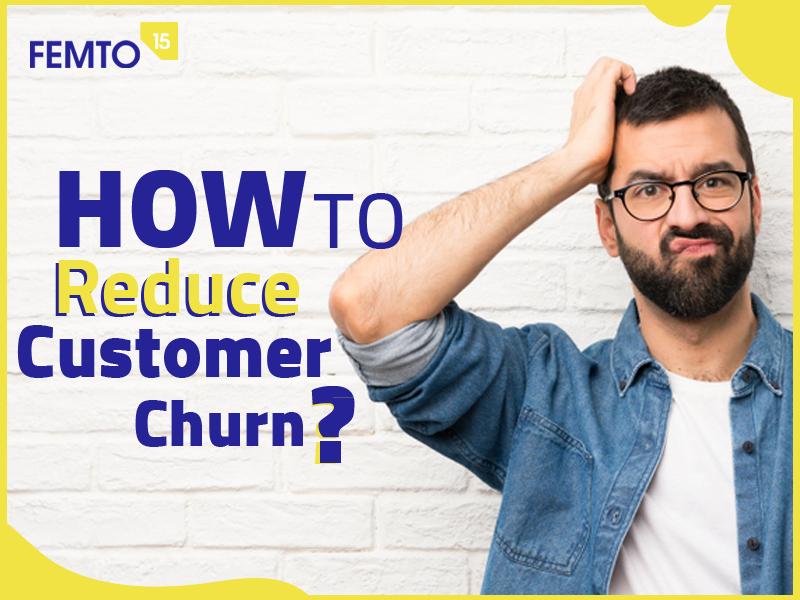 How to Reduce Customer Churn?
By Femto15 Team - March 12, 2020
In a prev article, we've discussed the reasons behind customer churn. The next step is to prevent this churn by taking the proper actions and perform the best strategies.
8 Tips to reduce customer churn
1. Attract the right customer
If you find yourself attracting the wrong customers, you should redefine your target customer and change your marketing methodologies. Lots of actions should be taken to revise the business's scope and goals. It may lead to significant changes in your vision and strategies.
2. Welcome them with a big hand
What customers need is to welcome them probably and then take them into an exploration journey at your product. Tell them the routs for each goal they want to reach and the fruits they can eat while walking through each route.
First, you need to send a simple introduction that shows the core of your product and the features they can use with links to each feature. Let them get some value FAST.
Then, you need to keep sending educational emails to take their hands into important flows. Remember not to send lots of emails suddenly, so you bother the user rather than helping him/her.
Finally, keep engaging your customers frequently using various channels so they don't drop. We will talk about engaging customers further on.
3. Keep educating your customers
One of the main things that lead to cancelation is the lack of information about the different features of your SaaS. If your customers can't get the full advantage of your service, that's a significant problem.
Thus, keep educating and guiding them to know your product or service better. For example, provide a knowledge base that enriches them with what they need, and send tutorials and how-to guides via mail.
In short, support them before they ask for it, provide the information before they search for it, and guide them before they get lost.
4. Track your customer's footprints
Tracking customer churn gives you important outputs that you can use in your customer success strategy. Like how long did the customer stayed with your business before churning, the value of churned customers, the complaints they gave before leaving, etc.
Customer's actions and interactions with your business give you signs that you can use to predict future churns before they happen. Accordingly, you can fix things before it's out of your hands when their behavior reaches the risk point.
For example, low-value customers and customers who aren't using your service for long are more likely to leave than others. You may find out that most of the churned customers were on your second plan and wanted to use a particular feature that is on your third plan, but they couldn't afford to pay for it. So, you think of something to do about this that matches your policies.
5. Take care of customer support
How you deal with customers' complaints and difficult customers, how you track those who silently leave without complaining? Are you listening enough to your customers?
One bad customer experience can't just lead a customer to leave, but it can also damage your reputation and prevent other possible leads from taking a purchase decision.
6. Track your competitors
Tracking your competitors' techniques and offers gives you an image of how they may steal your customers to surpass them at the right time.
7. Show at the right time
The cancelation decision doesn't come suddenly, there are always preceding events that alarmed you but you didn't give it enough attention.
If you can expect churn before it happens and find a customer that reaches a risk point, you need to take an action that stops him/her from making that decision.
That action may be a discount (for a limited period), a special offer, a friendly message, a personal phone call, or anything you find effective in preventing them from taking this step.
8. Ask for feedback
Ask your churned customers why did they leave. Reach them through phone, email, social media, or any channel and try to know the reasons that led to cancelation.
When you ask, try to find out how your business didn't meet their expectations, goals, plans, budget, etc. Knowing the reasons that you may track is the first step in reducing them.
Final words
Reducing your churn is just like losing weight, it takes time and effort, but step by step, you will find great results.
Good luck with keeping your customers happy and satisfied :)
ABOUT AUTHOR
Femto15 Team ABOUT AUTHOR
Femto15 Team